| | |
| --- | --- |
| | in this issue |

Greetings!

This month we discuss how finding joy in work is merely a matter of locating what is already there.
As always, just click "reply" to send along your comments at any time.

Best regards,

Jim Schaffer



---
The Joy of Cookin'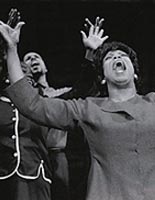 The question senior business executives should be asking right now is this: How does one find joy in the world of business anymore? Is it even possible? How can I get my employees to feel more joyful about their work?

Business is moving along for many, and some companies have achieved nice earnings in 2004. But growth, in most cases, is not attributable to innovation, and it is this need to reinvent their industries that is still keeping most business leaders awake at night.

Once again, though, they are putting the cart before the horse. The next cycle of innovation and growth will come when the employees of these companies can feel belief in their work-world once again, and generate the enthusiasm and high spirits necessary to fuel the next wave.

Even I would be hard-pressed to reel off an objective list of reasons to feel buoyant about the current atmosphere surrounding business. All of us seem to have figured out by now that anything can change at any moment and your future, as well as your boss's and your colleagues', is about as stable as Jerry Seinfeld's TV romances.

That said, it should come as no surprise to readers of this newsletter to hear that I don't think joy is something that can be found "out there" anyway. Business leaders can surely do more to engender an atmosphere for feeling good about things, but if you want joy right now — as much as you wish — I suggest you forget waiting for "them" to provide it and search for it within yourself.

The secret, of course, is how one locates it, and let me save you a lot of looking: You choose it.

That's right. We humans are great ruminators. We would rather obsess about our problems than dream about our pleasures (though they are opposite sides of the same escapist coin). We love to feel the weight of the world on our shoulders, despite our protests to the contrary. It's like a bad reflex.

A case in point: My alarm has gone off at 5:30 A.M. for more years than I care to remember. For many of those years I, like most people, would feel the instinctive groan with which we are all familiar: "Oh, no- — another day? Good God! Already? I can't do it. I'm too tired, too old, too ugly." Usually, the response is less internally verbal, more like the weary stance toward life described by the Germans as 'Weltschmertz' (literally, the collective pain of the world.)

For the past ten years or so, however, I have trained myself to check that impulse and immediately feel gratitude for having awoken to a new day. I spend at least a minute choosing joyful thoughts about being alive and having a chance to go out into the world once more. Then I get out of bed.

What a difference! Just by being aware of a reflex, by forming a new habit, it is possible to literally choose a joyful approach to the day as opposed to a beleaguered one. It really is largely under our control. To paraphrase my old college professor, Philip Roth: It's time to take the 'oy' out of 'joy.'

So how does that play out as the day goes on? It's important in setting the tone and re-programming the reflex. Trouble is, self-help books would have you expecting a glowing day just because you've begun by "doing affirmations" or "setting positive intention." I've found, though, that we have to choose joy again and again at intervals throughout the day, indeed every time we're confronted with a situation.

How many opportunities does your morning e-mail offer to throw you into paroxysms of anger, fear, or nervous reactivity?! What about stressful encounters with clients, co-workers or bosses? Each time, we need to be aware of our ability to choose our responses to these events, and need to train ourselves to meet them with a peaceful mind.

Sometimes, perspective alone will do the trick. In 1971, like many other young people around the globe, I spent the summer with a knapsack on my back travelling around Europe with my college roommate as we enjoyed the low airfares and inexpensive cost of eating and sleeping. My first night in London was spent at a six-dollar-a-night bed-and-breakfast in Kilburn. The next morning, I awoke covered with purple welts that were so painful I ended up in the ER of a local hospital. What I thought was the bubonic plague turned out to be a severe case of bedbug bites.

Why is it that even at the time I was able to see that as part of a great adventure (the accents of the doctors, the kindness of the elderly admitting physician who assured me it was an infection, the young ER doc who pressed a glass slide against my welts and showed me where the little buggers had punctured me), whereas now if I don't have perfect broadband connectivity in every hotel in America my entire life seems thrown into a tailspin?!

We need to approach each encounter with an open attitude. What's really going on here? Ah...boss freak- out... I can recognize that. Is there something I can learn from this? How curious!

By being conscious and non-reactive to these events we soon discover a kind of existential joy that arises from even some of the less pleasant things we encounter along the way.

Zen teacher Ezra Bayda puts it this way:

"What we call joy is simply the willingness to be with what is — including, and especially, the suffering that none of us wants."




What he's alluding to, of course, is that true joy can only come to us if we learn to stay in the present moment. Play with it. Dance with it. Embrace the bright parts and the dark parts.

I'm not saying that losing business is enjoyable, or that having an uncomfortable encounter with a colleague or a boss is a barrel of laughs. But I guarantee you that if you stay with each and every moment of your business day, and consciously choose a joyful approach any time you feel yourself able to, you will one day discover a joy in business deeper than that first blush of success you experienced back when you believed the world was yours for the taking.

As the great spiritual musicologist Duke Ellington once put it:

"It makes no difference if it's sweet or hot
You gotta give that rhythm everything you got
Cause it don't mean a thing if it ain't got that swing
Doo-wah doo-wah doo-wah doo-wah doo-wah doo-wah."



See you on the dance floor, jitterbugs!



For a definitive book on choosing joy, click here:
About Jim Schaffer

Jim Schaffer spent 25 years selling and managing people in both the software and advertising media businesses. Since 1990, he has shown people how to employ principles of Eastern philosophy to stay focused, keep high morale and get better results at work — regardless of what may be going on around them.



---



Copyright 2005 by Jim Schaffer. All rights reserved.

To subscribe to this newsletter, simply send an email with your request to: jim@jimschaffer.com.
Resources